Fixing Cars Since 1994
The Lady Mechanic Initiative
EMPOWERING THE GIRL-CHILD
With vocational skills for employment and job creation in Africa.
About
Lady Mechanic Initiative
Geared towards making positive, real and measurable impacts!
The Lady Mechanic Initiative® (LMI) is a non-governmental organisation headquartered in Lagos-Nigeria with a global outlook. Established in 2004 to empower vulnerable girls/women with mechanical and technical skills for a better life.
LMI occupies a very unique space in the world of vocational skill acquisitions, employment and job creation in Africa. LMI skill acquisition programmes target and empower girls/women from disadvantaged backgrounds, those failed by the education system, trafficked or working as sex slaves, single parents, child-labour victims, and others stigmatized by cultural, religious and gender biases.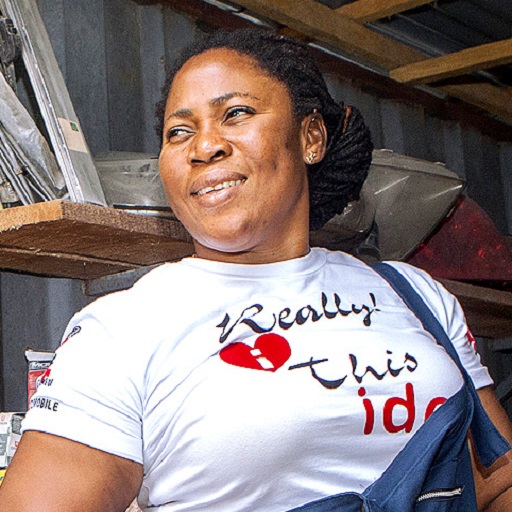 Lady Mechanic Free Training Programmes
The LAT programme is a professional mechanical (auto technician) training course designed to empower girls/women with skills and competence is needed to repair vehicles of kinds.
LSD is a speedboat driving course of the Lady Mechanic Initiative for girls/ women in the coastal areas. The programme covers the driving and maintenance of speedboats in addition to diagnostic ability.
LMI Summer School programme provides the opportunity for young girls from diverse economic and social backgrounds to be exposed to the fundamentals of automobile repairs.
The GRE programme offers comprehensive practical Petrol-Generator repairs training in addition to assembling of component…
LST is an LMI programme designed for women in the coastal areas of Nigeria, where water transportation is the popular means of transporting people, goods and services.
The LPD programme is a professional driving course for girls/women. The practical/comprehensive driving training programme empowers girls/ women
Advocacy

99%

99%

Capacity Development

97%

97%

Financial Independence

90%

90%

Social Inclusion

87%

87%
What people are saying about us.
I have no regrets being a Lady Mechanic. I aim to be one of the best mechanical engineers in Nigeria. I'm contented with the job, and my family is happy too.
I want to say a big thank you to the Lady Mechanic Initiative and Aunty Sandra. She made me who I am today.
The Lady mechanic here in Edo, a large number of youths are working here, different departments. They are doing the job, and we are being paid regularly.
Our job is to
empower the girl-child!